Teaching Commons is offering a variety of ways for you to enhance your skills as a communicator, educator, and learner. The following are professional development certification programs and courses offered over this academic year. For more information, or to discuss options, contact Jackie Shay at jshay@ucmerced.edu. 
---
Teaching Commons Pedagogy Program:
Pedagogy Program Overview
Coming Soon! 
---
Fundamentals of Pedagogy (TA Orientation)
By participating in Graduate Orientation Week (GROW), you already receive your first level of the program! Congrats! 
Overview of Program
Cultivate an Engaging and Inclusive Classroom Climate: Find out what is meant by "active learning," learn how to foster an inclusive and engaging classroom atmosphere, and discover strategies you can employ as a teaching assistant right away, no matter your level of teaching experience.

Diversity, Inclusion, and Community-Building: This session ties in with the live Active Learning session to introduce you to strategies to be considerate and understanding when teaching. By intentionally creating a comfortable and equitable learning environment, you will help promote the success of your students as well as your own understanding of how to be an inclusive instructor. This session includes information about UC Merced's undergraduate students as well.

First Day of Class: This session will guide you through how to jump-start your teaching career by planning an excellent first day in class, even if you don't know yet what you will be teaching. You will get tips and tools to make the first day of your class a success, whether in person or online. 

Technologies for Teaching and How to Use Them: Teaching online is very different from teaching in person, and the first few class meetings might be online. In this session, you will be guided through Zoom and CatCourses, the UC Merced Learning Management System (LMS via Canvas) to understand what tools are offered and how you can use these in a classroom setting. This tutorial will walk you through the main features of both platforms and offer suggestions on when to use them. 

Rubrics, Grading, and Feedback: A huge part of the role of an educator is providing grades and feedback to students. This task can seem overwhelming, and here we give you a rundown on how to grade effectively and fairly as well as provide some concrete examples of grading rubrics. Learn how to build your own rubric and the difference between evaluative and instructive feedback.  

Communication and Professionalism: As an educator, you are influencing your students and the academic community you are now a part of. Here we offer some simple tips on how to be an effective communicator to your students and faculty instructors as well as some ways you can boost your level of professionalism while working as an instructor. 

Live TA Panel Discussion: This live session with experienced TAs, hosted by Jackie Shay, Ph.D., will be an opportunity for you to engage with experienced TAs regarding graduate school life at UC Merced. Come prepared to ask questions or listen as they answer questions on balancing life and school, best practices for teaching, or whatever you bring to the conversation. 
---
Principles of Pedagogy (Fall)
This 7-part series of workshops will guide you through effective strategies for teaching by understanding how learning works. Graduate participants must have completed "Fundamentals of Teaching" to take this program. 
Overview of Program: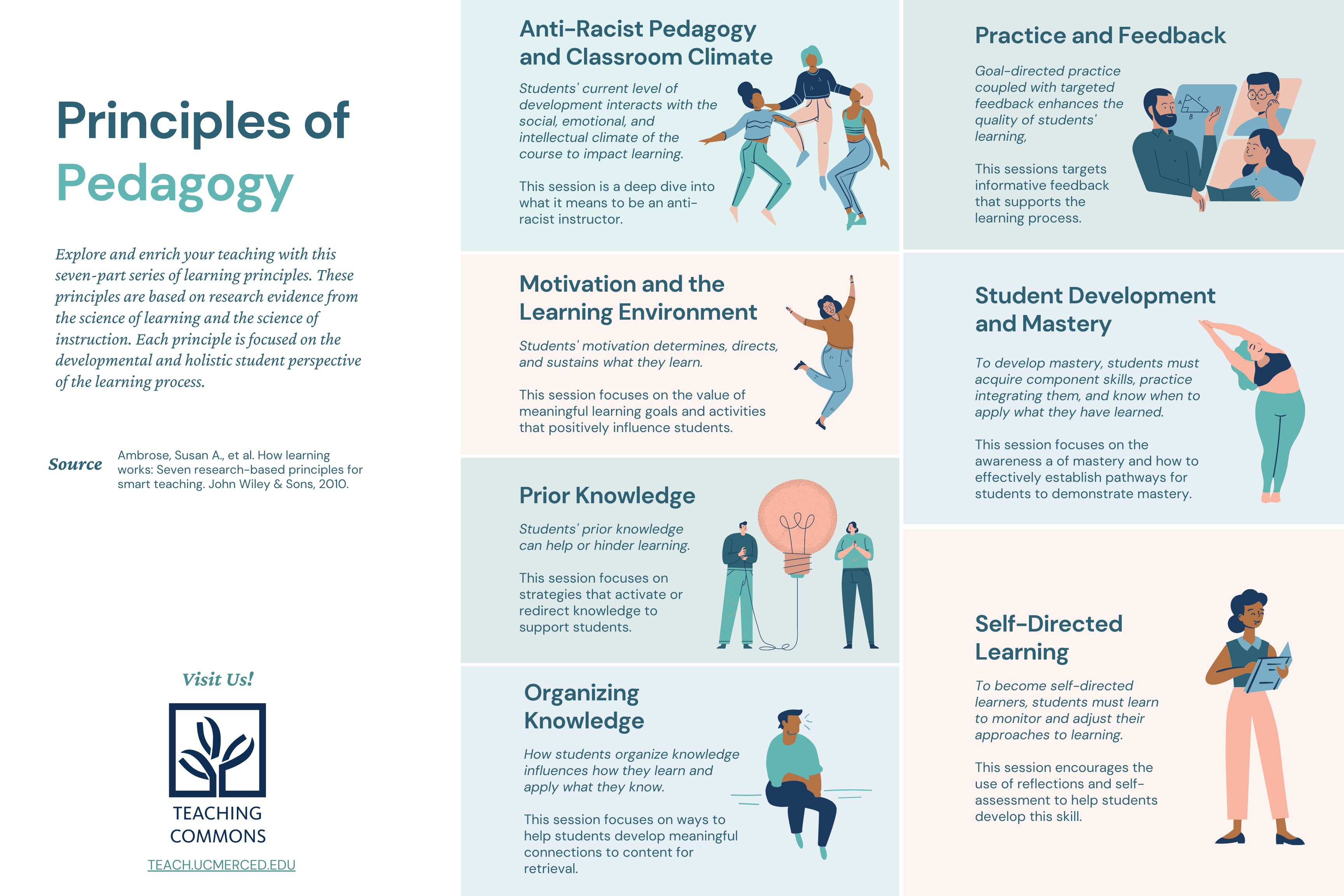 Fall 2021 registration is now closed. See you next fall!  
---
Advanced Instructor Preparation (Spring)
This series of workshops is designed to prepare participants for a career in teaching by applying evidenced-based teaching strategies in class, assessing teaching practices, and refining developed skills. Participants will leave with this series with teaching materials for the job market (e.g., teaching statement/philosophy, line items on resume/CV, etc.).
Participants of this series will need to have taken "Principles of Pedagogy" before starting this program. 
---
Discipline-Specific Offerings:
Pedagogy Coursework:
Pedagogy: IH 203 with Dr. Eileen Camfield 
Designed to guide graduate students through a "teaching as research" paradigm, culminating in a teaching philosophy statement for humanities instruction. In addition, it is a practice and assessment course that provides graduate students with an applied experience with "teaching as research," resulting in a set of teaching plans for humanities instruction.
Teaching and Learning: MATH 201 with Dr. Yue Lei
Students will be introduced to 'scientific teaching' - an approach to teaching science that uses many of the same skills applied in research. Topics will include how people learn, active learning, designing, organizing, and facilitating teachable units, classroom management, diversity in the classroom, and assessment design.
Teaching and Learning: QSB 201 with Dr. Petra Kranzfelder
Introduces 'scientific teaching' - an approach to teaching science that uses many of the same skills applied in research. Topics include how people learn, active learning, designing, organizing, and facilitating teachable units, classroom management, diversity in the classroom, and assessment design. This class is interdisciplinary and can be taken by graduate students in any program. 
University Teaching: QSB 399 with Dr. Petra Kranzfelder
Centered on a student's classroom experiences as a Teaching Assistant in an undergraduate Biological Sciences course. Provides a faculty-directed opportunity to implement theories and methods learned in the course Teaching and Learning in the Sciences (QSB 201 or MATH 201). Involves video-taping of teaching, peer review, and weekly meetings with faculty to receive feedback on their teaching practices. Course participants must have at least a 25% teaching assistant position during the same semester. Prerequisites: QSB 201 or MATH 201
QSB 399: Course Learning Outcomes
By the end of this course, you should be able to:
Implement and refine evidence-based teaching strategies into your course curriculum. 
Develop a question about what is happening in your teaching context, collect evidence to gain insights, and share your results with others through poster presentations. 
Review your teaching through classroom observation, survey, and/or interview data and reflect on expanding current beliefs, knowledge, and practices of teaching.
Transfer applied teaching skills into other scientific professional activities, such as research posters, presentations, lab meetings, etc.