CONSULTATIONS
Click on either of these links to set up an appointment with pedagogy coaches or instructional design team members. Our teams are here to meet your teaching needs! 
Our pedagogy and education research experts can help you think about strategies to promote inclusion and equity in the classroom, design a course from outcomes to assessments, evaluate teaching efficacy, analyze course evaluations, clarify course outcomes and objectives, assist with classroom alignment, develop assessments and syllabi, and so much more. 
Our academic technology experts and instructional designers can help you integrate remote teaching into your course, organize your CatCourse pages, build accessibility and inclusion into the course structure, optimize and integrate Zoom, Canvas, Clickers, and other instructional tools, and so much more. 
OUR MISSION
We are a collaborative team comprised of several partners including Academic and Emerging Technologies (AET), the Center for Engaged Teaching and Learning (CETL), the English Language Institute (ELI), and Students Assessing Teaching and Learning (SATAL).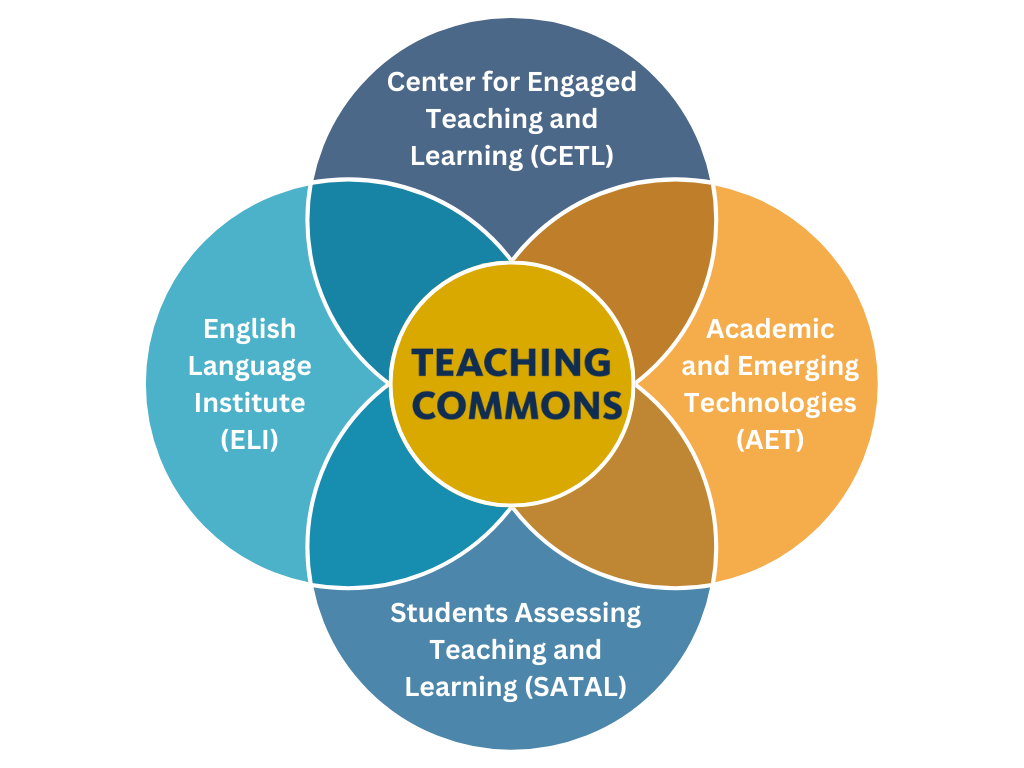 Our Mission is to provide a centralized physical and virtual location for programs, resources, and services focused on delivering student-centered, innovative, and high-quality learning experiences to improve student outcomes. Teaching Commons is held by three pillars: 
Pedagogy – the development and implementation of high-impact, innovative evidence-based teaching practices
Academic Technology – training and adoption of effective and emerging technologies for teaching
Education Research – evaluation and investigation to improve programs, teaching, and learning
To accomplish this, Teaching Commons:
Provides information and consultation on current educational research, particularly the scholarship of teaching and learning (SoTL) and discipline-based education research (DBER), to promote evidence-based instructional practices, services, and programs across the institution

Collects, analyzes, and reports data regarding the student experience and identify opportunities to improve teaching and learning in the classroom

Supports and trains instructors in active learning, emerging technologies, and other instructional strategies to enhance teaching effectiveness

Collaborates with instructors to investigate the impact of instructional innovations

Focuses on research and best practices regarding equity and inclusion for first-generation and underrepresented students.
OUR PEOPLE