The following is a list of current UC Merced communities focused on teaching. As communities on campus evolve, so will this resource. If you are in a CoP not listed here or are interested in creating a new CoP, please connect with our team to start the conversation. 
---
Faculty Learning Communities
The Center for Engaged Teaching and Learning is delighted to offer a series of professional or faculty learning communities (PLC/FLC) and Communities of Practice (CoPs). These groups bring together instructors to offer support, share expertise, and work collaboratively to improve teaching skills. The interdisciplinary nature of these collaborative groups has been particularly helpful in helping instructors to expand their pedagogical practices when applying new methodological approaches, modalities, and technologies (Terry, Zafonte, & Elliot, 2018). All faculty are invited to take a deeper dive into how learning works and the implications for teaching diverse students and disciplines at UC Merced. Participants will collectively develop a deeper understanding of the learning principles and support members of the community as they test out new instructional strategies and practices to facilitate learning in the classroom. 
---
Reflecting on Anti-Racist Pedagogy (ROAR) 4.0
This annual series is designed to help participants form a community of practice focused on improving anti-racist pedagogy. Now in its 4th year, this community is dedicated to the exploration, discussion, and dissemination of pedagogical strategies that promote equity, justice, and inclusive excellence. This year's emphasis will be on trauma-informed/healing-centered teaching and assessment practices. However, topics will be group-generated and collaboratively facilitated. Participants will receive a certification of completion that can be included in promotion binders as evidence of commitment to the practice of pedagogy.  
Open to: All instructors

Fall 2023 Details: Meets every third Friday of the month in KL 316 from 1:00–2:00 PM

Please register if interested in joining
Together, we will:
Explore the intersection between anti-racist teaching and anti-racist pedagogy. 

Examine how our assumptions and inherent practices influence classroom practices. 

Discuss ways we can adjust those practices to be more inclusive and effective. 

Design course content that will be presented at an Equity, Diversity, and Inclusion (EDI) showcase, EASE, in May.
The purpose of this series is not to give mandates and protocols, but to share experiences and create a space to collaborate with peers and to support personal and professional growth. 
The meeting starts in September. Stay tuned for registration details
If you have questions regarding this event, please contact Eileen Camfield ecamfield@ucmerced.edu
Looking for something right away? See this adapted resource on Racial Battle Fatigue (RBF). Coined by critical race theorist William Smith, RBF is a:
cumulative result of a natural race-related stress response to distressing mental and emotional conditions. These conditions emerge from constantly facing racially dismissive, demeaning, insensitive and/or hostile racial environments and individuals 
For additional resources or to join an ongoing community, ask Dr. Eileen Camfield at ecamfield@ucmerced.edu for an invitation to the Anti-Racist Pedagogy Teams Group.
 
---
Promoting First-Year Flourishing: 
This new FLC will network interdisciplinary instructors who teach first-year students with the goal of developing a "shared language" (a core framework) and effective teaching practices that promote student success.  Participants will receive a certification of completion that can be included in promotion binders as evidence of commitment to the practice of pedagogy.  
Open to: Instructors of 1st-year students (e.g., Math 05, WRI 01/10, Spark, etc.)  

Fall 2023 Details: Meets on the third Friday of every month from 11:00 AM –12:00 PM

Please register if interested in joining! 
The Faculty Pedagogy Lunch & Learn is an opportunity for faculty to meet casually and discuss pedagogy in an informal setting. Pedagogical consultants from the Center for Engaged Teaching and Learning will be available to provide "Just-In-Time" tips and feedback on pedagogical discussions. Come lunch and chat teaching with us!
Open to: All instructors

Fall 2023 Details: Every first Wednesdays of the month 12:00–1:00 KL 316 
There is no need to register for Lunch & Learn. Please come and go as you please! 
---
Discipline-Based Education Research (DBER) Journal Club 
Are you interested in studying and/or conducting education research? Look no further! DBER is an open, collaborative, and friendly environment for people to read recent articles, present findings, proposals, or trends in education research, or find other people who want to collaborate and work together on research projects.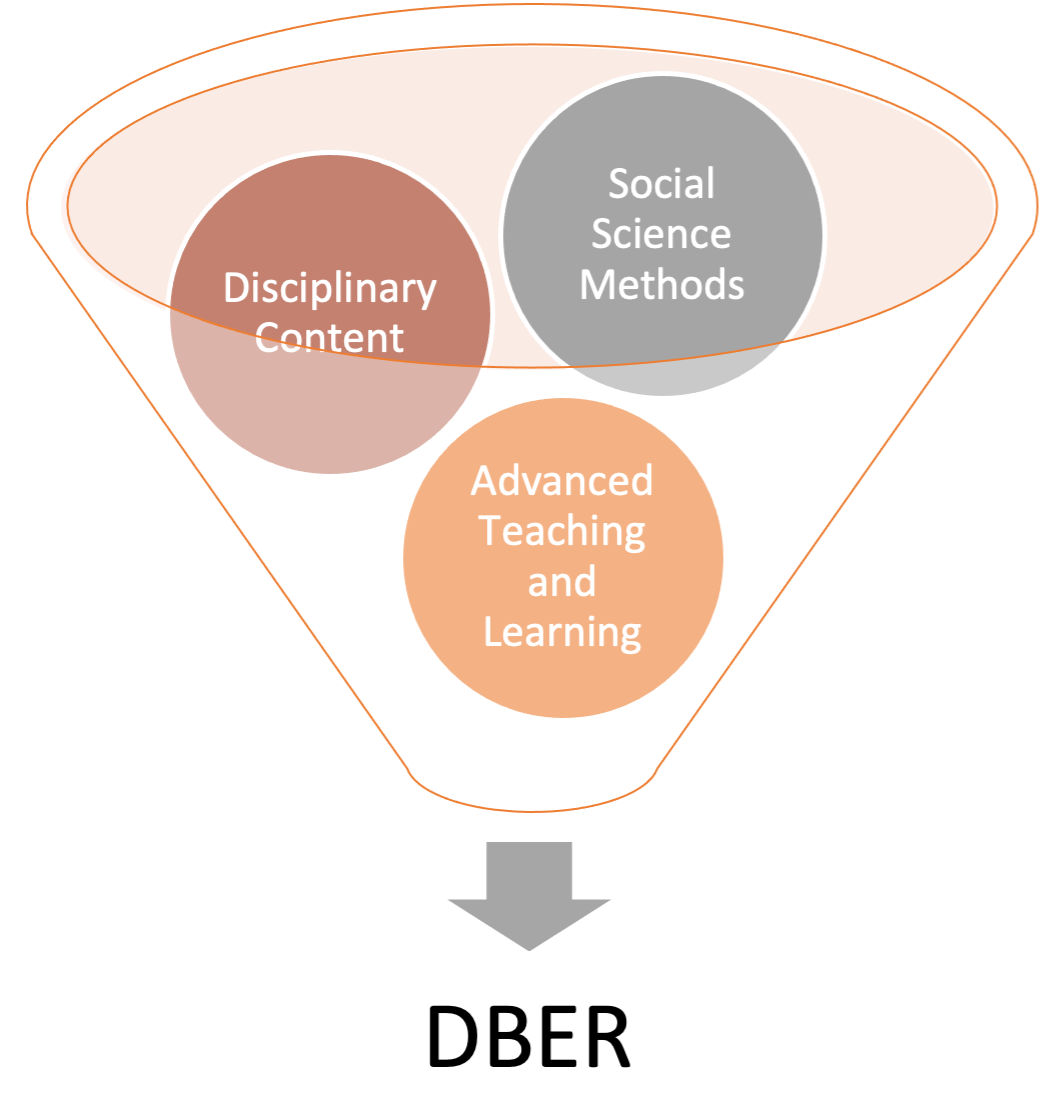 Goal of DBER
The goal of this interdisciplinary journal club and seminar series is to foster cross-disciplinary partnerships in education research and engage in current education research findings and initiatives. DBER focuses on sharing journals (i.e., discussing and reviewing current literature) and research sharing for the seminar series. Also, we would like to transition back to in-person meetings.
DBER Meeting Details for AY 23–24
DBER meets every Tuesday from 1:00-2:30 pm in COB1 320 (the Willow Room). If you are interested in adding an email to our listserv, then please email Marcos García-Ojeda at mgarcia-ojeda@ucmerced.edu.
---
References
Lang, J. M. (2021). Small teaching: Everyday lessons from the science of learning. John Wiley & Sons.
Terry, L., Zafonte, M., & Elliott, S. (2018). Interdisciplinary Professional Learning Communities: Support for Faculty Teaching Blended Learning. International Journal of Teaching and Learning in Higher Education, 30(3), 402-411.