The following is a list of current Communities of Practice (CoP) at UC Merced with a common interest in education. As communities on campus evolve, so will this resource. If you are in a CoP not listed here or are interested in creating a new CoP, please connect with Cathy Pohan cpohan@ucmerced.edu or Jackie Shay jshay@ucmerced.edu to start the conversation. 
---
Faculty Learning Communities
A professional or faculty learning community (PLC/FLC) is a group made up of instructors who meet regularly to offer one another support, share expertise, and work collaboratively to improve teaching skills and the academic performance of students. The interdisciplinary nature of these collaborative groups has been particularly helpful in helping instructors to expand their pedagogical practices when applying new methodological approaches, modalities, and technologies (Terry, Zafonte, & Elliot, 2018). All faculty are invited to take a deeper dive into how learning works and the implications for teaching diverse students and disciplines at UC Merced. Participants will collectively develop a deeper understanding of the learning principles and support members of the community as they test out new instructional strategies and practices to facilitate learning in the classroom.
To join an FLC, please contact Dr. Cathy Pohan at cpohan@ucmerced.edu. 
References
Lang, J. M. (2021). Small teaching: Everyday lessons from the science of learning. John Wiley & Sons.
Terry, L., Zafonte, M., & Elliott, S. (2018). Interdisciplinary Professional Learning Communities: Support for Faculty Teaching Blended Learning. International Journal of Teaching and Learning in Higher Education, 30(3), 402-411.
---
Reflecting on Anti-Racist Pedagogy (ROAR) Discussion Group
This annual series is designed to help participants form a community of practice focused on improving anti-racist pedagogy. Together, we will:
Explore the intersection between anti-racist teaching and anti-racist pedagogy. 

Examine how our assumptions and inherent practices influence classroom practices. 

Discuss ways we can adjust those practices to be more inclusive and effective. 

Design course content that will be presented at an Equity, Diversity, and Inclusion (EDI) showcase, EASE, in May.
The purpose of this series is not to give mandates and protocols, but to share experiences and create a space to collaborate with peers and to support personal and professional growth. 
The meeting starts in September. To register for the Fall 2021 ROAR COHORT cohort, RSVP HERE.
If you have questions regarding this event, please contact Hala Anlnagar at diversity@ucmerced.edu.
Looking for something right away? See this adapted resource on Racial Battle Fatigue (RBF). Coined by critical race theorist William Smith, RBF is a:
cumulative result of a natural race-related stress response to distressing mental and emotional conditions. These conditions emerge from constantly facing racially dismissive, demeaning, insensitive and/or hostile racial environments and individuals 
For additional resources or to join an ongoing community, ask Dr. Eileen Camfield at ecamfield@ucmerced.edu for an invitation to the Anti-Racist Pedagogy Teams Group.
 
---
Discipline-Based Education Research (DBER) Discussion Group 
Are you interested in studying and/or conducting education research? Look no further! DBER is an open, collaborative, and friendly environment for people to read recent articles, present findings, proposals, or trends in education research, or find other people who want to collaborate and work together on research projects.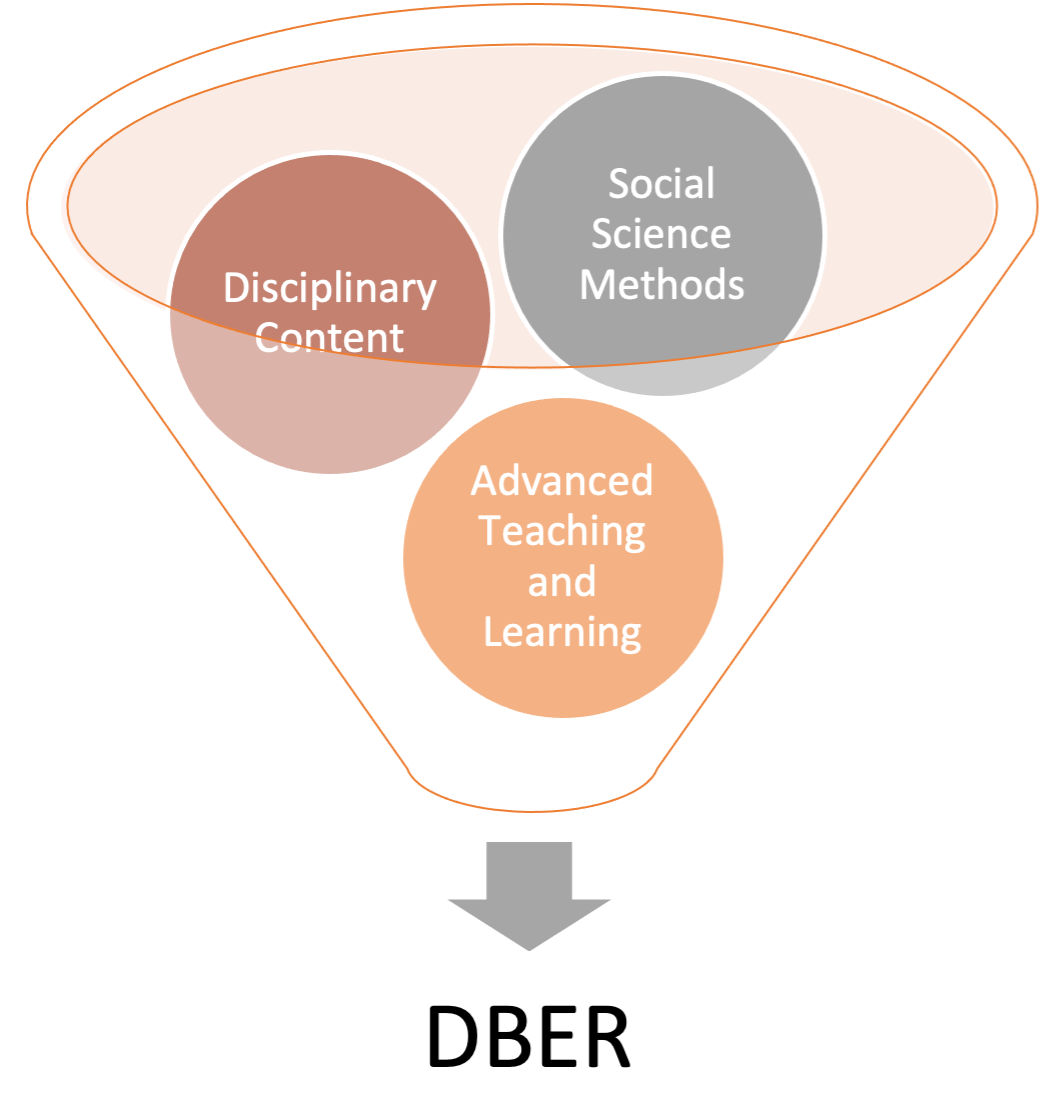 Goal of DBER
The goal of this interdisciplinary discussion group and seminar series is to foster cross-disciplinary partnerships in education research and engage in current education research findings and initiatives. 
Details
DBER meets every week for an hour and a half and the format is ever-evolving based on participant interests and needs. If you are interested in getting connected with DBER, please contact Jackie Shay at jshay@ucmerced.edu. 
Fall 2021 Schedule: Tuesdays from 2:00 pm – 3:30 pm in COB2 392 (or contact Jackie for a Zoom link)
---
Graduate Pedagogy Association (GPA) 
GPA's mission is to assist graduate TAs and educators, both novice and experienced, with their pedagogical development by providing simple, yet effective, resources to aid their teaching practices. We accomplish this goal by utilizing a multivector approach to skill development. For more information contact GPA's president. You can find updated information through UC Merced's CatLife GPA Page or connect with GPA on Facebook.