Students may struggle with coursework for a variety of reasons. When students encounter difficulties they may be unsure of what to do to turn around their performance and may be reluctant to approach the instructor for help. The following provides some quick tips for how instructors can reach out early to provide motivation, support, and resources to help struggling students get back on track.
For lower-division courses, mid-semester grades will give students formal notice of their performance in your course. Instructors are encouraged to follow-up on mid-semester grade notifications with targeted support messages to your D and F students using the method and template below.
Messaging Specific Students via CatCourses
For detailed instructions on how to filter and send messages through Canvas gradebook, see this
article
. Otherwise, follow these steps:
Step 1: Open your CatCourses Gradebook
Step 2: Open assignment menu (three dots on the top right)
Step 3: Select "Message students who..." and select the "Scored less than" category
Step 4: Copy the template email provided here, edit as desired, and send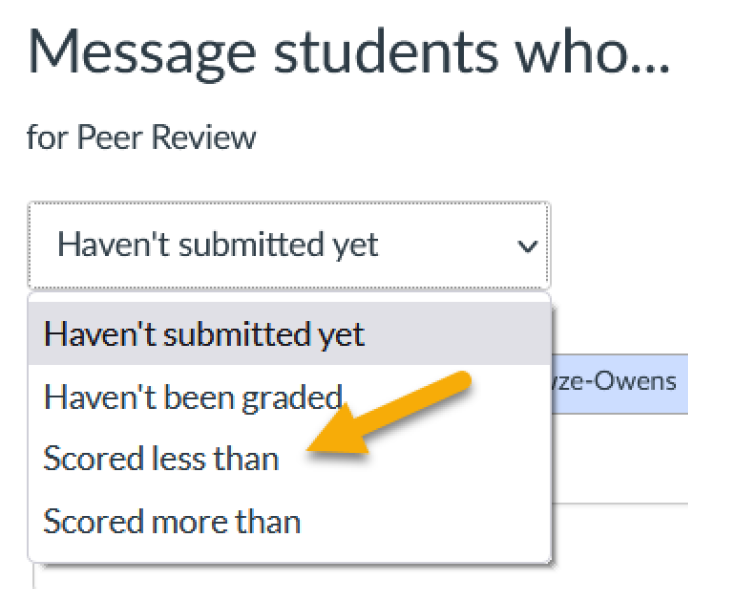 Sample Email Template for Outreach to Under-Performing Students
The following template provide suggested language that might be used to contact students who are struggling and might need additional support. Instructors are free to modify the sample email or draft their own message.
Dear Student,
Your [overall grade so far, midterm grade, assignment grade] in [COURSE #] indicates that you may not yet be learning the material at the level needed to be successful in this course. You are absolutely capable of succeeding and may just need to rework your academic approach to this course.
I would like to suggest a few resources that may be helpful to you refine your approach to learning materials in this course, managing your time, structuring your studies, or accessing basic needs:
[Insert a selection of resources from the following section]
Since we are halfway through the semester, this is a good opportunity to take an honest assessment of your learning progress and implement techniques to make progress in the course. I hope you will give some of the resources outlined above a try! Let me know how we can work together to help you meet your learning goals.
Sincerely,
Instructor Name
Example Resources to Provide to Students
The following list gives some ideas for items you can select to include as suggestions to your students in the email template above. Select a few items from the list that you think would be most suitable to help a student catch-up and succeed in your course.
Attend weekly Office Hours
Schedule a 1:1 meeting with the instructor to develop a personal study plan
Schedule a 1:1 meeting with the TA to develop a personal study plan
Re-do previous assignments, quizzes, or exams and seek help during Office Hours on questions you still are not sure about
Review earlier sections of the textbook
Get a secondary textbook from the library to provide an alternative explanation of material
Work review problems [Provide suggested problem sets from your text, online, or another resource]
Watch the following lecture videos to review materials from earlier in the course [Provide links to open educational resources (OERs) that align well with your course. These can be found by searching online or working with a university librarian. Make sure the videos are at the appropriate level for your students.]
Start doing reading assignments prior to lecture
Start regularly utilizing the appropriate tutoring center (Tutoring Services)
Participate in mid-semester group study sessions (LINK) [Check the link to see if this service is available for your course]
Attend the Bright Success Center Learning Workshops
Visit the Basic Needs site if you are experiencing food, housing, or financial insecurities